Aritz Parra named news director for Southern Europe at AP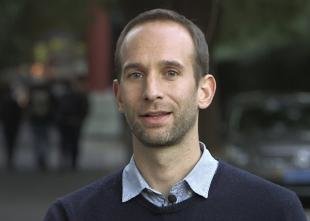 Nicole Meir | The Associated Press
In a memo to staff, AP's chief information officer for Europe and Africa, James Jordan, announced that Aritz Parra is the new chief information officer for Southern Europe:
"I am very pleased to announce that Aritz Parra has been appointed Chief Information Officer for Southern Europe.
"Aritz needs no introduction to all of you as he is already a strong editorial voice and leader in Spain and across Europe. In his new role he will lead the southern region which includes Turkey, Greece, Cyprus, Italy, Spain and Portugal.He will be based in Madrid and will take up his new duties later this month.He will travel regularly to Rome as well as to the other key regional offices.
"Aritz is an excellent journalist with a wide range of print and video skills and impressive leadership experience gained in Spain, replacing Karl Ritter as Southern Europe leader on several occasions and most recently working to help co-ordinating coverage of the war in Ukraine.He has been calm, thoughtful and insightful, qualities vital to his new role.
"Aritz joined the AP in 2012 as the agency's senior producer in Beijing, directing video coverage of the early Xi Jinping era, a changing economy, the erosion of individual and civil rights. and the impact of pollution and climate change, among others. He also covered the latest news, including natural and man-made tragedies, in Japan, South Korea, Mongolia and some of the most difficult countries for journalists: Myanmar and North Korea.
"Upon moving to Madrid in late 2016, he switched from video to print as his main format, writing stories for English and Spanish speaking audiences. Since then he has led coverage of the Iberian Peninsula on elections , extremist attacks, the rise of far-right populism, deadly forest fires, the repercussions of the Venezuelan crisis, separatism in Catalonia, Spain's painful record with its recent history, a volcanic eruption, the multi-layered issue of migration to Europe and the conflict in Western Sahara.The Iberia team's reporting on the first year of the devastating coronavirus pandemic has won a Gramling Award.
"Please join me in congratulating Aritz."